Our Restaurant Online Ordering System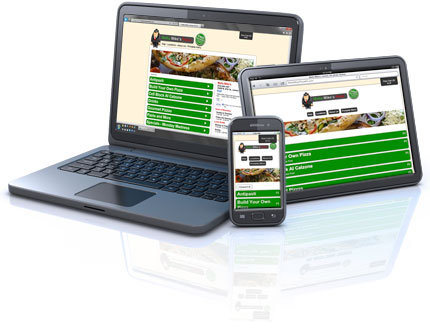 Why Menufy?
Free online ordering website built in 10 business days from the day we receive your menu. Your e-commerce website is customized around your restaurant's brand identity, maintained and hosted on our servers for free.
Standalone website. Your web presence won't be buried as a subpage or a listing on a directory site alongside your competitors.
Already have a website? If you prefer to keep your existing website, we can build you a free Menufy online ordering website which you can link from your restaurant's website.
No-term contract. Cancel anytime without any penalty.
Search engine-friendly menus. Our technology is crawler-friendly to ensure visibility on search engine result pages.
Is it really free?
For our basic services, there are no costs outside of our 2.5% + $.30 credit card processing fee (which is lower than PayPal and Google Checkout's standard rate). Orders paid in cash are processed free of charge. Learn more about our pricing.
You'll enjoy zero out-of-pocket expenses with Menufy because we directly charge your customers a $1.25 convenience fee. Our optionally free service however enables you to absorb this fee if you wish to offer free online ordering to your customers, in which case we simply subtract $1.25 from the credit card order total before making the deposit into your bank account. You may also pick an order amount threshold before the fee is absorbed by the restaurant. We charge a flat $1.25 whether it's covered by the restaurant or the customer. We are confident that you will not find a better value elsewhere.
Once your restaurant website is live, delivery and take-out orders are truly an automated and worry-free process!
See what our happy client restaurants are saying, learn more through our FAQ, or click below to get started. We'll enter your menu and personalize your website to your brand identity at no cost within 10 business days!
Services & System Features
Free online ordering website. Your e-commerce website is customized around your restaurant's brand identity, maintained and hosted on our servers for free.
Mobile web-friendly. Our websites are optimized for display on smartphones and tablets so that your customers can order on the go or consult your menu from their portable devices.
Restaurant "Shopping Cart". The cart allows your customers to conveniently add food items to their order in a user-friendly hideaway panel on full-size browsers, and in a mobile-optimized cart for pared down hardware. See this e-commerce feature live on our restaurant client websites.
Secure credit card processing & storing. With industry-standard encryption, your customers can rest assured that their payments will always remain secure with our SSL connection. We also offer the convenience of saving your customers' payment information in our secure vault to speed up repeat orders.
Time & day-parting. If you have a specific lunch or dinner menu, you can assign food items to specific times and days. The online ordering system will also automatically display a "Closed" message outside of business hours.
SMS (text message), fax, and email notifications. Pick one or a combination of order alerts at no additional cost. We also offer a point of sale (POS) system that emits an audible and visual alert. Our support center will also call your restaurant if an order isn't acknowledged within 10 minutes.
Tipping. Your customers can tip during order placement or it can be manually added after the sale.
Credit card payment deposits. Your customers' credit card payments are transferred to your bank free of charge through one the following frequencies: monthly on the 4th, bi-weekly every other Thursday, weekly on Thursday, or by threshold (e.g. every designated $ amount). We also offer daily deposits for $10 per month.
POS Console. Our optional $250 wifi tablet offers additional online order management convenience and the ability to add tips, to check bank deposit status, and to view monthly reports.
Order history reporting. Would you like to know what are your most popular food items or identify other online ordering trends that you can leverage? Our free order reporting offers valuable insights into your customers' purchasing habits.
Wesbite traffic analytics (website visitor reporting). Are you interested in knowing where your website visitors are coming from to gauge the effectiveness of your advertising? Are you curious how many people visit your site every day? The complimentary reporting offers enterprise-grade traffic analytics.
Custom Development
Are we missing a feature that is crucial to your restaurant? We offer custom software development at no extra cost on a case-by-case basis. If the project scope requires substantial development, we'll be happy to offer you a quote. We always welcome feature set expansion opportunities that are tied to our clients' operational needs.
Chain restaurants: we can build you a complimentary portal if you wish to centralize your restaurant listings on one corporate website.
Contact us to discuss your specific needs or to check if any wished feature is already in our development pipeline.
Attached to your restaurant's current website?
We recommend that you maintain all of your online assets onto one domain. We however understand that a website can be a hefty investment or the labor of love from a friend or family member. If you wish to offer online ordering capabilities to your customers while keeping your existing website, we can create a separate e-commerce site which you then link to. You can use a text link or we can provide you with an "Order Online" button.
Below is an actual client: www.dow-wo.com is the restaurant's original site and dotwo.menufy.com is the online ordering website that we customized around Dot Wo Garden's brand identity for a seamless transition from one site to the other.